Tenda is a leading networking supplier of networking devices, based out of China. They have entered Indian market in recent years. My TP-Link modem recently stopped working, after serving me for over four years. Before buying Tenda modem router, TE-D303, I evaluated a number of other modems in the market. Finally I chose this ADSL modem router. In the coming sections, I will elaborate my reasoning for choosing this particular model as well.
Tenda Modem Router D303 Review
Before we take a detailed look at the product, let us take look at the features of the Tenda D303 ADSL modem WiFi router.
Features
All-In-One device

ADSL Modem
WiFi Router
Ethernet Connectivity
3G USB Modem Support
USB Storage / Print Server

2.4 GHz Wireless N, speed up to 300 Mbps
Lightning protection
IPv6 Ready
IPTV Ready with QoS support
Three Year Limited Replacement Warranty
Package Contents
Tenda D303 – 1 No
Power Adapter – 1 No
Resource CD-ROM – 1 No
Quick Installation Guide – 1 No
Ethernet Cable – 1 No
Phone Cords – 2 Nos
ADSL Splitter – 1 No
Build
The ADSL modem is well built. The body uses plastic. TE-D303 comes in only in white colour. The top side of the modem has no air vents. This is a noticeable departure from the style used by other vendors like TP-Link, D-Link, etc. One advantage I see with this flat, smooth top surface is the ability to block dust particles, which accumulate on top of the device over a period of time. It is easy to clean the top of the modem router with a dry cloth, when some dust settles over it. The top also has a number of LEDs. The LEDs are small and the fonts used to mark the LEDs are even smaller, making it a bit difficult to read. However, looks at the LED lights only when there is a problem. Hence, I do not think that this is a major concern.
The back of the Tenda modem router houses two antennas and all the ports for external connectivity. Antennas, two of them, are not detachable. They can, however, be turned and rotated. It allows both sideways movement and back and forth movement. My earlier modem router, TP-Link TD-W8951ND, had removable antenna. Removable antenna did not serve any purpose. I tried connecting a bigger antenna, which did not produce any meaningful increase in the signal strength. The back of the modem router features one RJ11 port, four RJ45 Ethernet ports, one USB port, a reset button, power connection, and a power button.
The bottom side of the router has air vents. It is full of air holes designed specifically to minimize the heat buildup inside and dust accumulation. The left and right sides of the ADSL modem router also has air vents. The air vents on the sides have a different shape than that on the bottom. Overall, I am very happy with the build of the Tenda modem router.
Usage As BSNL ADSL Modem
I use a BSNL connection at home. So, the requirement of ADSL modem was particularly important. There is no FTTH connectivity available at my location.
Connection Setup
The connection setup is easy. I connected the phone cable to RJ11 Jack. On the modem, the port is marked as DSL. It is the first port from the left, on the back side of the modem router. Once you connect the cable, you can proceed with the power on. It takes a bit more time for this router to power up than my earlier modem. When the DSL LED blinks and stays firm, you can connect to the modem through either WiFi or Ethernet cable. I choose connection via Ethernet cable. The modem includes a built-in DHCP server, that allocates an IP Address to each connected device.
You can login to the administrative interface through the web browser. You should open your browser and point type in http://192.168.1.1 in the address bar to connect to the modem. In case you prefer, you may also connect to the login page over HTTPS. A page asking for your ISP credentials comes up. This is by far, the best initial configuration page I have seen in an ADSL Modem. The layout of the page is simple, and it asks you only minimal information to connect you to the Internet.
You need to select the Link Type, Connection Type, Country and ISP. When you select country and ISP correctly, the VPI/VCI information is automatically populated. You may also override the values by selecting "Other" ISP from the dropdown menu. If the connection parameters are correct, then you should be connected to the Internet. The right most LED on the modem blinks when connected to the Internet.
Using As WiFi Modem
In case your ISP is delivering connection over RJ-45 Ethernet (not cable), you may use this modem as well. This is useful for people who want to switch over from one technology to another, while moving their residence. In some urban areas, one area may be covered by ADSL connectivity, while some others may not be. In such cases, you would be forced to buy another modem either yourself or through ISP.
This modem router saves you from such headaches. You can configure the first Ethernet port as a WAN port. Just select Ethernet in the connection settings and fill in the remaining parameters according to your ISP recommendation. You should be connected to the Internet.
Please note that the Ethernet ports on this Tenda modem router supports only 10/100 Mbps Connectivity and not 1 Gigabit as offered by some expensive models. The WiFi, however, supports up to 300 Mbps connectivity.
Signal Strength & Range
One of the most important aspects which we should consider before buying a router is the WiFi signal strength of the modem router. The modem supports 802.11n standard, and works in 2.4 GHz range. To test the effectiveness of the router, and measure the signal strength, I used an open source Android application – WiFiAnalyzer. The application displays the following data for each Access Point (AP):
Access Point Name
MAC Address of the AP
Signal Strength in dBm
Channel
Frequency of the channel
Approximate Distance of the AP
Manufacturer
Channel Encryption
The distance displayed by the app is often incorrect, while in some cases it is a good approximation. In essence, you cannot rely on that measurement alone. The signal strength is satisfactory, given that many of the measurements are made behind cemented walls. Cemented walls absorb a good amount of signals.
Other Significant Features
There a few other features which deserve a mention. However, those features are not essential for the functioning of the WiFi modem.
IPv6 Support
I wanted a modem that supports IPv6. BSNL does not support IPv6 now. I do not even think that IPv6 support is going to come in the next one year. However, IPv6 is the future. The number of IPv4 addresses are decreasing. It is just a matter of Google preferring IPv6 enabled connections, that most webmasters will move to IPv6.
In this particular case, the modem supports IPv6 connections on both LAN and WAN. The LAN side has support for DHCP v6 as well.
Printer Sharing
This was one of the features I badly wanted in my router. I have an HP Deskjet 1050 with me. The list of printers supported does not have that printer listed. However, I tried adding the printer. However, it did not work. My computer could find the printer, but printing test pages failed. I need to troubleshoot this. I will update the post, once I get the printer working.
3G Modem
The modem supports WAN connectivity through a 3G Modem as well. The ADSL modem does not have necessary chip or slot to accept a 3G Modem. You can connect a USB 3G modem to the slot and specify the connection parameters.
Now in case your ADSL broadband connection goes down, the 3G connection can act as a backup. The modem will automatically switch over to 3G connection. However, there is no provision to configure 3G connection as a metered one. So, it is recommended to use a prepaid mobile connection for this purpose.
I do not have a 3G Modem with me. However, I will get one of those modems in the coming days and update the review.
File Sharing
File sharing is a simple service that comes bundled with the ADSL modem. It is very easy to setup and access. If you have a large capacity USB drive, you can connect the drive to the modem and access the files through SAMBA share.
I love this setup, especially since it allows all family members to access files through this service. When someone takes a photo, they can just upload it to the common folder, and everyone can access the files. Yes, the files can be shared through WhatsApp messenger and likes. However, those messengers reduce the size of the photo when you post it to a group. Such issues does not arise here. Better, this works for videos with large size. You only need to download files from your local network.
Combine these features with built in DLNA Media Server on the router, you can access your audio and video files in the local network with ease.
Lightning Protection
Well, I live in an area where there is seasonal lightning. When I hear the sound of thunder, the first thing I do is to turn off the modem and computer. However, that is not enough. Sometimes, lightning strikes without a warning. I have lost at least five ADSL modems due to lightning.
This ADSL modem comes with a lightning protection that can withstand up to 6000 V. However, I am not going to risk the modem by experimenting. Yet, if lightning strikes suddenly, without a warning, then this functionality of the router will be put to test.
IPTV Ready
IPTV services are limited in India. However, this modem supports IPTV services and you can utilize the services in case you get IPTV Services in future. Ethernet port 4 acts as IPTV port. One may configure the IPTV services from the web panel.
Web Configuration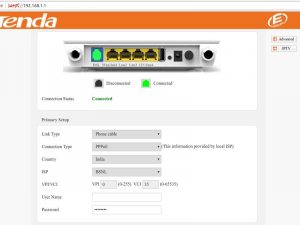 The web interface to configure Tenda Router Modem is easy to use. It is the best UI I have seen for a ADSL modem. The settings are presented in a simple manner. At the same time, you can control each and every aspect of the router through the web panel.
Security
With increasing number of cyber attacks, it is very important to have good security options in your modem. Not just that, it is very important to have sensible and secure default settings as well. I could see sensible defaults in all aspects of the router. ICMP, Telnet, Web Panel, etc. are disabled on the WAN by default.
Having said that, I am disappointed by the one aspect of the Tenda modem router – the password rules. The modem accepts only letters, numbers and underscore in the password. No other special character is allowed. I hope that they will correct this issue through a future software update.
Software Update
Software updates are available through the website of the manufacturer. It is possible to update the software though WiFi and Ethernet connections. My earlier TP-Link modem did not allow software updates through wireless connections. Moreover, the modem allows software updates through FTP and TFTP servers as well.
Customer Service
I have not experienced this. I loved the customer service of TP-Link in India. They had a very simple replacement policy. Return the modem to the shop from where you bought it, and take a replacement with you. I am sure that such a policy had given them a lot of sticky customers. I too, have availed those services. Since I bought the modem online, I had to mail it to Mumbai and they sent me a replacement within a few days.
I hope that Tenda would also offer similar services. A partner in India provides services for Tenda products in India. The contact details of the partner are in their webpage.
Conclusion
Tenda TE-D303 is a solid offering from Tenda. It is worth every single rupee you spend on it. With amazing features and good WiFi coverage, you would love every aspect of this modem. The only thing I find lacking on this device is the absence of Gigabit Ethernet ports. Other than that, I love this offering. I am sure that even you will enjoy Internet access this modem.